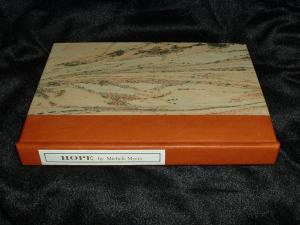 In 2012, I took part in the 2012 Sketchbook Project of Art House Co-op. I gathered some of my small sketches and paintings and glued them into the approximately 5 x 7 inch, 32 page provided sketchbook. My husband did a fine job of binding the finished sketchbook, which I sewed together, in leather and marbled paper. I chose from a list of possible 2012 themes the title "Hope". Jungian psychology and Christian spirituality are strong influences in this sketchbook. Mine was among thousands of sketchbooks from around the world that were exhibited in the second half of 2012 in major cities in the US and Canada.

Here is the link to the digitized images: Go to Hope Sketchbook

Some of the images that go across two pages are unfortunately fractured in the center by the digitizing process. The original sketchbook is in the Brooklyn Art Library and accessible for viewing.